I'd explain why I want to write this article and think it might be useful but I've got a stinking cold so I'm going to borrow from Kelso. Blah blah blah, nostalgic story, on with the article. Oh, and spoilers ahoy.
1) Laughter and Tears
Scrubs is a lot of things but mostly its a comedy. The majority of things that happen are played for laughs. But like all comedies, its founded on bad situations. Most - at least in Britain - have the bad things happen to bad people. But not Scrubs. In Scrubs most of the core characters are good people, and a lot of the bad things happen to their perfectly pleasant patients. There's some pretty hefty gutpunches; there's an element of pathos usually missing from the comedies I grew up with Fawlty Towers and Blackadder.
And I think that adds to the appeal. I can empathise with the Scrubs characters in a way I can't with Basil and Edmund. I get a wider spread of emotional stimuli. I think it also makes it funnier in some ways. Humour often relies on unpredictability and the greater the range of possible outcomes, the more unpredictable things are.
Its not a particularly original statement that humour needs to be cut with something to increase the effect, but Scrubs is what really brought it home to me.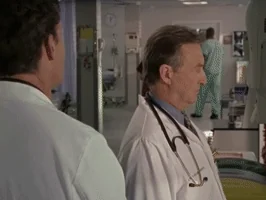 This is the reaction I'm expecting to this article
2) The importance of opposites
Scrubs is a comedy about a young doctor's (reluctant) coming of age. I feel kinda bad putting it that way as it's a lot bigger than that but at heart, that's what it is. I mean, good grief, the kid's narrating almost every episode and they're all called "My X". It really is all about JD. And the fact that Scrubs is a comedy that's about characters changing rather than a fairly immutable situation puts a certain amount of stress on the storytelling. The story has to be more than a vehicle for the laughs, but it can't get in the way.
This is where having secondary characters who mirror the MC's most important traits are so important. The inherent conflict in that contrast not only makes for easy laughs, but its the straightest and truest path to showing what a character really is. JD's weird relationship with Cox betrays JD's insecurities about his non-alpha male nature and desperate need for approval. His tight bromance with Turk helps to highlight just how slow JD is to grow up compared to his peers. And of course the on-off relationship with Elliot showcases front and centre his fear of commitment and tendency to self-sabotage. Again, the value of characters that have natural conflicts with each other built in is not new, but Scrubs is what helped me understand it.
3) The importance of secondary characters
You might have got a hint from that I think JD's a tad unbearable. That's because he is. He's a egotistical special snowflake with huge maturity problems and - the kicker - not that funny. Fortunately Scrubs is filled with characters who are less grating and also a lot funnier. There's times when I want to call it a ensemble comedy. You've only got to go up a few paragraphs to know why its not true but in terms of making the story, it's deffo a group effort.
Now, pretty much everyone says that the secondary characters are always more fun and that MCs have to be a bit duller due to their everyman status. I think Scrubs is a good example of this. We see the secondary characters when they're going to make the story interesting. We see JD all the time. Of course he's going to be less interesting. That means that the secondary characters really need to bring it.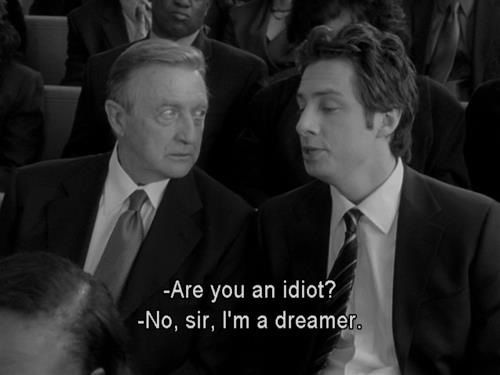 I'm on Bobbo's side here
4) Flawed people should lose
I didn't learn this one entirely from Scrubs. It took Brooklyn 99 to bring it home as well and I've made that point before here on the blog. But I'm going to make it again. A lot of Scrubs' characters are pretty decent humans but some aren't. Bob Kelso in particular is a piece of work. Perry Cox is a fundamentally altruistic and upstanding human being, but its cloaked by so much insecurity that he openly admits that he needs people to appeal to his giant ego to help. And so on and so on.
But when the Scrubs' characters flaws come up - when you see them being overconfident or narcissistic or overly needy - you know there's a damn good chance they're going to lose. And characters need that. Not just to fit my morals - although I won't lie and pretend that has no part of that - but because characters struggling with their flaws make them more interesting.
5) You can break your own rules and people will love you anyway
This is the big one and the one that made me write this article. Among the many gutpunches that Scrubs has delivered over the years that has really stuck with me is when Dr Cox is talking to a pyschologist that "relationships don't work the way they do on television". Its the start of a speech that goes straight to the heart of the matter in a way that fits the general theme of Scrubs. That theme is generally that everything worthwhile is hard so you simply have to face up to it, work hard, stay with it... and maybe it'll happen. Maybe. Maybe not. But it won't if you don't.
Except of course JD's and Elliot's relationship does indeed end working out like it does in television. They're right for each other and they finally realise it and that's that. They're not wading through the same crap everybody else does. There's a few more fairytale endings in the later seasons that feel like they came from a different place. And? Know what? I don't think anyone really cares now. Maybe that's part of why the show is no longer on the air, but it doesn't taint the memories most people have. Because ultimately mistakes here and there don't matter as much as the whole.